Event Update - Airfields on The Air
On the weekend 22nd & 23rd of May G6UT will be operating from ex RAF Hunsdon using the call of GB0HAF celebrating 80 years in May of Hunsdon becoming operational. We will be on 2 Mtrs and HF depending on conditions.
Club Currently Closed due to Covid 19 restictions but we hope to be open very soon.
The Harlow And District Amateur Radio Society is a well established club operating under the call sign of the late Tom St. Johnstone (G6UT), with a related class B (G6BUT) license also held.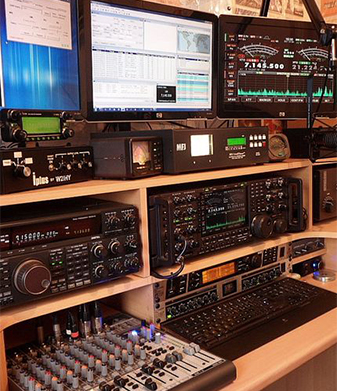 The Club has a dedicated radio shack where a full range of Radio equipment can be made available for the members use. This is connected to a crank up mast, where a range of HF, VHF, and UHF antennas are mounted, this is complemented by a full size G5RV, and a 40m/80m vertical.
Every Friday at 8.00pm until late.
CLUB CURRENTLY CLOSED DUE TO COVID RESTRICTIONS
The club will be running both Foundation and Intermediate Licence training courses. RCF registered examination centre.
We are looking forward to get out to many events we have planned for this year.
The formal objective of the club are to foster, in a spirit of comradeship, all branches of radio, electronics and amateur radio activities.